About the FishSUP™ 126 Inflatable Fishing Stand-Up Paddleboard
Time to think outside the box! The Sea Eagle FishSUP™ 126 will elevate your fishing to a whole new level! Giving you that extra edge over your fellow anglers. Now you can stealthily glide right into the heart of where the trophy fish reside!
This incredibly stable, bow to stern tapered, swallowtail inflatable stand up paddleboard is designed specifically for fishermen! The removable transom gives you the ability to run it with an electric motor. Extending your reach while conserving your energy.
About the Fishing SUPs Series
Sea Eagle Fishing Inflatable SUPs are the most versatile stand-up paddleboards in the world! Sit, stand, fish, motor, troll – designed for fishermen always on the go!
Extremely portable and affordable, these fishing SUPs are incredibly stable and easy to use, set up in under 10 minutes.
Say farewell to lugging around heavy boats and trailers plus unnecessary fees! Hello to portability and convenience. Sea Eagle Fishing SUPs stow in your car trunk always ready to go!
Featuring: protective, non-slip EVA foam deck pads – perfect for standing or sitting, 360° swivel seats – for hours of comfortable seating, built-in Fish Rulers – to be certain your catch is of legal length, multiple D-ring attachment points – for attaching various accessories and gear, removable rear motor mount – for mounting up to a 70 lb. thrust electric motor or up to a 3 hp gas motor on the SUPCat or a 55 lb. thrust electric motor on the FishSUP, and conveniently located grab/carry handles – for ease of transport, launching and beaching
Specifications
(compare all inflatable fishing stand-up paddleboards)

| | |
| --- | --- |
| Person Capacity | 2 |
| Hull Weight | 45 lbs. (48 lbs. with motor mount) |
| Length | 12 ft. 6 in. |
| Width | 3 ft. 4 in. |
| Load Capacity | 2 persons or 500 lbs. |
| Deflated | Approx. 45″ x 15″ x 10″ |
| Air Valves | One Way |
| Inflation time | 7 Minutes |
| Seam | Quadruple Overlap |
| Material | 1000 Denier Reinforced Drop Stitch |
| Board Thickness | 6″ |
| Engine Capacity | 55 lb. thrust (45 lbs. max weight) |
| Inflation Pressure | 12-15 psi |
| Volume | 340 Ltr. |
Standard Features
Great for sitting or standing
Upturned bow for easing over wake (4″ nose/entry rocker)
Slight continuous rocker throughout
Large swallow tail for added stability and increased maneuverability
Camo pattern EVA foam deck pad prevents slipping and punctures
Built-in 36″ Fish Ruler
Unique Paddle Pocket for securing your paddle
Removable transom
(3) Conveniently located front and rear grab handles
(3) Easy slide-in, removable, rear skegs for better tracking
D-Rings and shock cords at bow to secure gear
Center balance middle carry handle with Sea Eagle cushion grip pad
(14) Stainless Steel D-ring attachment points for attaching various accessories
Large rear D-Ring attachment for leash (*leash not recommended when using motor)
Up to 15 PSI max air pressure capacity
Deluxe recessed Halkey Roberts style air valve
Additional reinforcement layers
FishSUP™ 126 in the news
Top, Front & Side Views
click images to enlarge
FS126 Reviews
(3 total, avg. review: 4.0 out of 5)

10/29/2019
5.0 out of 5 stars.
Joseph DeLeo
, Cocoa Beach Verified Owner
My wife and I have used our two FS126 on a few occasions. We are impressed with the quality of the boats. They are very sturdy and stable and let you go where other boats can't. The trolling motor works great. They are easy to store and inflate with the electric pump. The hand pump, even though large and of good quality, is a workout. Living in Florida, we had to register the boats and place numbers on the side. I purchased them from a company that I believe is on your website and glued them on myself. So far so good.
show full review ▼
2/18/2019
3.0 out of 5 stars.
Kenneth Seda
, MORRISVILLE Verified Owner
Hello,
To be honest, I haven't used the boat as much as I'd like. I took it on a trip to South Carolina, bumped in to a pier and put small slices into the surface of the rubber. It did not seem to cause a leak but I was surprised and how sharp the barnacles were and easily the scratch the surface layer. I'm hesitant to take into saltwater again. The rubber seems a little soft and you have to be too careful, That aside, I used it in South Carolina and again locally on pond. It's very stable. I found fishing from it very easy. A couple complaints… First…it's heavy. The guy with it on his back all neatly packed up must be a weight lifter because I can barely get the whole thing off the ground. I also found the transom a little difficult to figure out and still haven't put the motor on because it looks unstable. The seat takes a bit long to set up. That whole looping strap thing is a pain. You need to figure out how to make that easier. Lastly it's not quite Fly Fishing Friendly.
show full review ▼
11/19/2018
4.0 out of 5 stars.
John Wotkyns
, BERKELEY Verified Owner
Only used twice so far, it's as awesome as I had hoped, a sport paddle board camper. My review is very good, but with a gaping caveat : Only 1 fill chamber. Design must strive now to re configure a fail safe something: (like X's baffling inside primary chamber + (would add stability) The craft is a sporty enough platform to endanger a wayward adventurer into a puddle with but one valve. OK SeaEagles, I wanna help you make this FS126 Great with Best Practice's for Marine applications. USA
Videos
Key Features:
FishSUP™ 126 Discount Packages
Start Up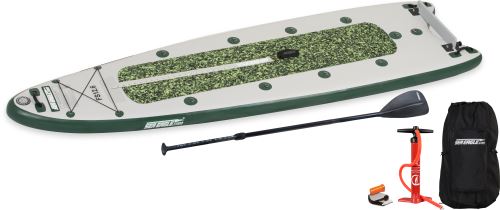 Deluxe
Swivel Seat Fishing Rig
The Swivel Seat Fishing Rig Package takes fishing to a whole new level! The addition of the comfortable 360° swiveling seat with two Universal Scotty Rod Holders adds to your fishing arsenal while providing extra comfort.
In Stock
 
View Package Details
Pro Motor Fishing Rig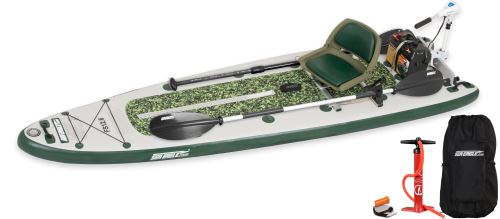 The Pro Motor Fishing Rig Package provides all the benefits of the Swivel Seat Fishing Rig Package. Plus the Dual Purpose Fresh/Saltwater Venom 34 electric motor* and Minn Kota Trolling Motor Power Center* with built-in LED battery meter display and two 12-volt accessory cigarette lighter style plugs. *Batteries not included.
In Stock
 
View Package Details
Ultimate
Ultimate 2 Person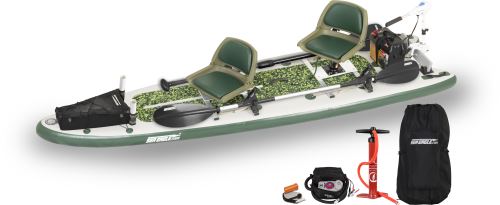 For the most serious fishermen and guides who choose to be completely armed – this two-person package is for you! This package includes Dual Purpose Fresh/Saltwater Venom 34*, Minn Kota Trolling Motor Power Center* and BP12 electric inflation pump*. *Batteries not included.
In Stock
 
View Package Details
Green Machine
With the stealthiness of the WaterSnake Venom 34 and the charging power of the Solar 45 Panel, you can troll all day with the Green Machine Package. You also get all the benefits of the Swivel Seat Fishing Rig Package and the Minn Kota Trolling Motor Power Center (battery not included).
In Stock
 
View Package Details
Instructions