M.D. Johnson
–
April 30, 2020
If you've been overlooking the West's channel catfish, you're missing out on prime fishing.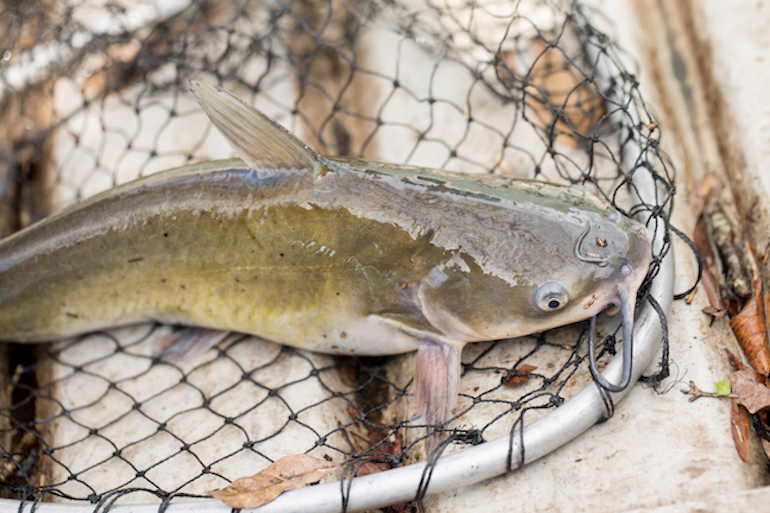 Shutterstock image
Note: This article is featured in the West edition of the May issue of Game & Fish magazine, current on sale on newsstands. Click to learn how to get an annual subscription (10 issues) for $5.
In contrast to anglers across most of the country, fishermen west of the Rockies spend very little time trying to catch channel catfish. They focus on trout, salmon and steelhead, with some walleyes and bass thrown in, but they don't spend much time on whiskerfish. This is surprising for a couple reasons. First, there is some excellent channel catfishing to be had throughout the West. Second, you'll be hard-pressed to find better table fare.
PLENTIFUL, FUN AND TASTY
Catfish have become more and more popular among anglers, in part because emergency closures in some spring salmon and steelhead fisheries have forced anglers to look for alternative targets. In large systems like the Columbia and Snake rivers and their tributaries, channel catfish fit the bill, being plentiful, tasty and fun to catch.
Craig Dowdy is the owner of YJ Guide Service (yjguideservice.com) and a skilled practitioner of the catfish arts. Dowdy sees anglers of all skill levels and backgrounds on his skiff in spring and summer.
"Most of my clients are people who have never fished for catfish," he says. "Or they just didn't know they were here. They might know that some lakes have bullheads, but they weren't aware of the fact that channel catfish are here."
If you've never spent much time fishing for channel cats, there are some things you should know. First, channel catfish are not the same as bullheads; channels are larger and more likely to actively feed on baitfish. One- to 5-pound channel cats are common, though some will top 20. The current Washington state record is a 36.2-pound monster caught in 1999.
Channel catfish are widespread throughout the West. In Washington, excellent populations can be found in the Lower Columbia and a handful of smaller rivers, including the Yakima, Walla Walla and Palouse, the latter being Dowdy's home water. Perhaps the best-known channel catfishing in Oregon is in Brownlee Reservoir; however, an excellent fishery exists in the John Day River as well. The Missouri River system in Montana, including famed Fort Peck Lake, holds good numbers of channel catfish. So, too, does the Colorado River in southern California, Utah's Bear River, the Snake in Idaho and Wyoming's North Platte, to name but a handful.
WHEN, WHERE AND WHAT BAITS TO FISH
"We'll start fishing about the third week of March and go through the first of June," says Dowdy. "The big ones are up in the areas [on the Palouse] where we fish, eating carp eggs. You can catch 'em year-round down at the mouth, but the big ones are there earlier, in the month of April."
Here's something a lot of anglers don't know about channel channel catfish: Their reputation as indiscriminate bottom feeders is undeserved. The truth is, catfish, like trout, are often a match-the-hatch kind of fish, though they like bigger bites than trout. Typically, they hold in places so that they can readily feed on a specific food source. In the Palouse, it might be carp eggs in April. In other rivers, it could be concentrations of baitfish.
"Most anglers are under the impression that catfish bait has to be old and stinky and rotten," says Dowdy. "These fish, though, prefer fresh bait. We'll fish a supply of bait for two or three days, and that's it. After that, it just doesn't seem to work as well. It has to be fresh. We'll out-fish people using frozen bait five-to-one. It's the bait—the fresh bait—that makes all the difference in the world."
What kind of bait?
"Any fresh cut bait is what we use," he says. "It doesn't matter if it's pikeminnow, sucker, trout—anything that's in that system that you can catch and is legal to use. Pikeminnow and sucker meat seems to work really well. And you definitely want to add a scent to it. That's their main way of finding food, and the water we're fishing is like chocolate milk. Getting that smell out there is critical."
Serious catfish anglers like Dowdy are careful with scent while on the water. No fuel, sunscreen, cologne or scented soaps on the hands, which might be transferred to the bait.
"I don't let people touch the bait," Dowdy says. "I do all that myself. And I don't let them dump anything into the water. Where we fish, it's really shallow, and that scent you put in the water can definitely make a difference."
The shallow fishing holds up during spring but not all summer. Water temperature is the factor.
"Into June, we're fishing in 2 to 4 feet of water," the guide says. "After that—once the weather starts to get warm and the water starts to get warm—they move out of that shallow stuff and into 40 and 50 feet of water."
In shallow water, look for current seams and breaks—small eddies where fish can rest out of the current and wait for food to be brought to them. Though catfish generally like slower current than trout or bass, like any predatory fish in a river they "hold" in places that don't require much swimming effort but provide access to food being washed downstream.
"The current comes out of the river and disperses out onto a big flat. The edge of that current, just like in any type of fishing, always seems to be a good spot," Dowdy says. After mid-June, the situation changes. Anglers search out deeper pockets and scour holes, anchoring and drifting baits along the bottom from upstream.
SIMPLE TACKLE
Another good thing about channel cats? The rods, reels and terminal tackle needed to catch them is fairly run-of-the-mill. In fact, you probably already have a setup that will work just fine for channels.
"I use a 7-foot, medium-action rod," Dowdy explains. "Nothing fancy. The same rod you'd use for bottom-bouncing for walleyes, a baitcaster with 25-pound braid. You have a plastic slider with a 2-ounce cannonball weight to a swivel. Next is a 2-foot, 20-pound monofilament leader tied to a 5/0 or 6/0 circle hook."
Circle hooks are designed so you don't set the hook hard at the strike. In fact, setting the hook as you would with a trout or bass is counterproductive.
"Usually they grab the bait and go, and they're hooked. It's about as basic as it gets," says Dowdy.
There's no reason not to take advantage of the channel catfish near you. The big ones—10- to 15-pound fish—fight hard, especially on lighter tackle. Fish of 1 to 8 pounds out of cool rivers in late spring before the water warms are excellent for a fry. And they're fun.
"It's not a real complicated fishery to learn," Dowdy notes. "It's a matter of just going out and doing it a couple times. Or going with a guide who can show you what to do right away. And kids? Even if they're not big enough to hold the poles, we'll leave 'em in the rod holders and have the kids turn the handles. It's a great kids fishery."
BOBBERS AND HOOKS FOR CHANNEL CATFISH
My tackle playbook for channel catfish reads the same as guide Craig Dowdy's, with one addition. While Dowdy says he doesn't employ slip-bobber rigs for channel catfish due to the current in the Palouse River, I would suggest trying them if the water permits.
Find a backwater, eddy or any reasonably still stretch of water that's 2 to 8 feet deep, and it can be tailor-made for a slip-bobber. The rig is simple: bobber stop, bobber, beads, beaded 'banana' weight, and a 2-foot mono leader tied to a Daiichi Bleeding Bait Octopus hook in size 1/0 to 4/0.
Tip your hook with fresh cut bait or a tried-and-true nightcrawler. Whatever bait you choose for channels, an attractant scent can greatly improve your chances for success.