Mike Marsh
–
April 20, 2020
Follow these tips to find the best fish when crappies move to spawning cover.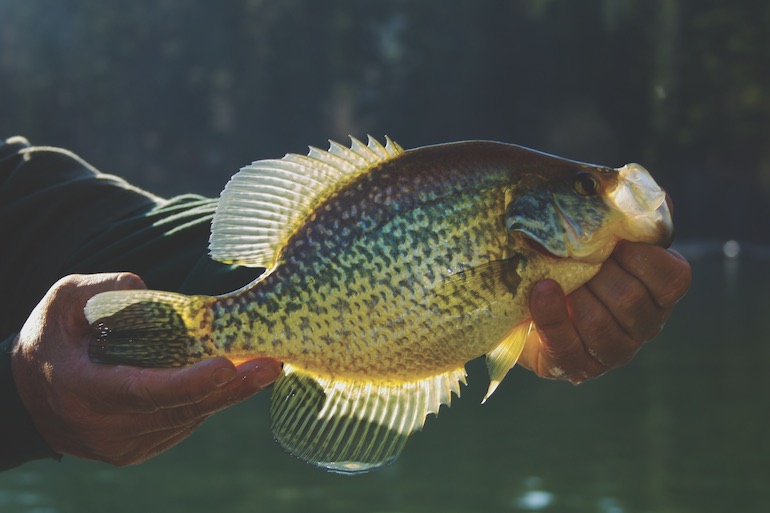 Using a float rig is a great tactic in shallow water for presenting a minnow at the crappies' preferred depth. (Photo by Mike Marsh)
As the saying goes, "Catching fish is easy. Finding them is hard." But that old axiom is not necessarily always true when crappies "go to the bank."
"Going to the bank" refers to the special time in spring when crappies head for shallow water to spawn. Anglers may call it "heading shallow" or "hitting the brush." No matter what you call it, it is the easiest time to catch crappies because they are concentrated in water so shallow any angler can find the cover and structure that holds them.
Trolling a jig with a plastic trailer is a great way to locate fish quickly. It is not necessary to add extra weight to make jigs dig deep, so jigs as small as 1/64-ounce may work. An important aspect to trolling jigs by simply letting line out from the reel, which many anglers call "long-line" trolling, is that an angler can troll several different jigs with different weights, colors and styles to see what the fish prefer.
Trolling through deadfalls and brush invites snags, so anglers should troll just offshore of visible structure. Crappies will swim out several feet from structure areas to strike trolled lures. Therefore, by trolling along bank contours, the water depths and structure areas where crappies are feeding can be easily found. The best depths will be 5 feet or less.
Crappies may be oriented on a submerged log or tree branch that you cannot see. Once you pass a spot that elicits a strike, stop the boat and begin casting. An increasing number of strikes will aid you zeroing in on the exact location of the structure and school.
Once a good spot is found, you can begin fishing by several methods. Casting a jig or minnow on a float rig is a great tactic. Using the float to control the depth of the hook keeps snags to a minimum. This is important when kids or inexperienced anglers are along because nothing is more frustrating than continually snagging cover and breaking lines. Also, nothing sends crappies away from productive structure faster. If you move to the structure to free a hook or bounce a limb in a brush pile while pulling the jig free, crappies often move away and refuse to bite for up to 30 minutes. If the fish stop biting after a hang-up occurs, the best tactic is looking for another spot and returning later for another try.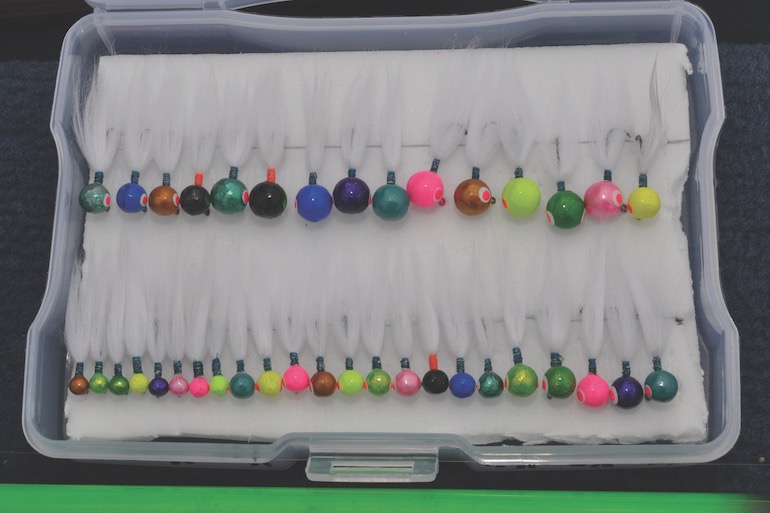 A wide range of sizes and colors of jigs gives you more options when searching for crappies. (Photo by Mike Marsh)
For anglers who are adept at casting jigs to visible bushes, standing timber and laydowns, simply moving the boat along under trolling motor power is a great tactic for locating crappies. As with trolling, casting different jig styles and colors is important. This can be done by rigging multiple rods with a different jig on each one or casting along a stretch of bank then turning around to hit the same area with a different jig.
Shoot for Crappies
"Shooting" a jig is another technique that is important to learn, particularly for fishing underneath overhanging trees and docks. You may troll along the edge of overhanging structure or cast a float rig to it and catch a few fish, but they are mostly concentrated beneath the structure. The bail of the reel is released and the jig is held by the bend of the hook between the thumb and forefinger. The jig is drawn back, loading the rod. The jig is released as the bail finger releases the line. The jig flies beneath the overhang in a low arc to avoid snagging. This technique also casts very light jigs over longer distances than standard casts.
All water bodies are not created equal when it comes to crappie-holding structure. Besides the natural structure, manmade structure that holds crappies includes floating docks, duck blinds, boat ramps, bridges, riprap, retaining walls, pilings and submerged fences. Natural cover an angler might overlook includes rock outcrops, sandbars, steep clay or rocky banks and sunken logs. Older lakes have less natural shoreline cover than younger lakes, so as a lake ages and natural cover deteriorates, manmade cover becomes more important to crappies and the anglers after them.
Most anglers who find a concentration of legal-sized crappies stick with that school until they have all they want or the fish quit biting before they move on. However, there are some tactics anglers can use when they want to upgrade the size of their fish.
Some types of structure hold larger fish than others. A good rule of thumb is that the fewer crappies a piece of structure holds, the more likely those fish will be larger than the average fish on crowded structure. For example, a dock with brush tied beneath it is a standard crappie hole on most lakes. Anglers often make large catches from them.
However, only an occasional bigger fish makes a showing, so it usually comes with bragging rights. However, I can think of many instances where a very big fish or two came from small, isolated structures that no one else even thought of targeting—an individual piling, a single rock jutting from the surface away from the bank or a submerged stump that was difficult to see.
Find the Big Slabs
I happen to be a big-fish seeker and can tell you that a crappie that weighs more than 2 pounds on a certified scale is rare and a 3-pounder so scarce most anglers never catch one. If you want to catch trophy fish, you should avoid areas swarming with smaller fish that gobble your baits or lures faster because of simple arithmetic.
Once an angler has all of the eating-sized fish he wants in the boat, the only way to find bigger fish is moving. A productive move may mean motoring a few yards to a different piece of structure or it could translate into traveling miles, even heading for another lake. No fish is more lake-specific than a crappie. One lake in a river chain may have large numbers of small fish, while the next lake upstream or downstream may have lower numbers of bigger fish. Angler pressure and fertility play the biggest roles. The more angler pressure, the larger the fish tend to grow—but they are fewer in numbers. Higher fertility produces greater abundance and larger fish. Muddier lakes usually have higher fertility and different branches of the same lake can have an astounding difference in fertility depending upon the water quality of the rivers entering the lake. If you want bigger fish, you should find areas that consistently have the most color or turbidity.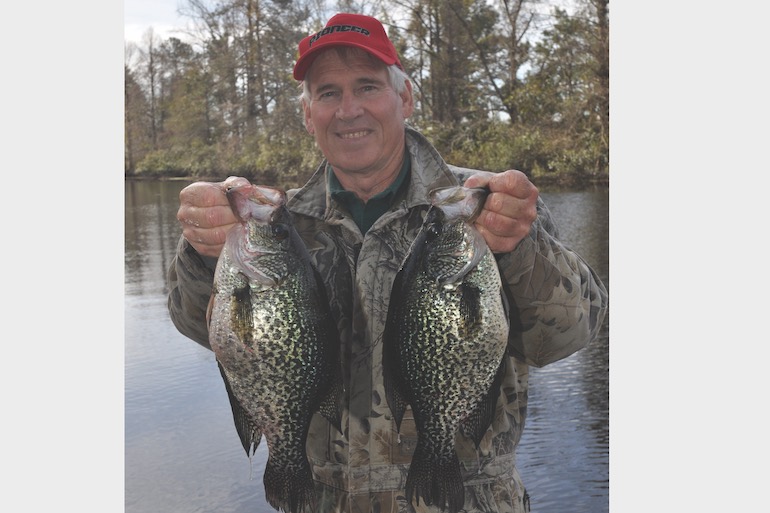 Large crappies typically don't crowd on structure like smaller fish. Moving from a school of keepers to find bigger fish can be a productive tactic for trophies. (Photo by Mike Marsh)
To find schools of bigger fish, a good search tactic is going back to long-line trolling to sample different cover types at varying depths. Crappie schools grade themselves by size, so at some point, you are bound to locate a school of fish that are bigger than average.
Most crappie anglers are so structure-focused that they forget to use all of their senses to find some truly nice fish. I have located many sizable crappies by using my nose. When a gravid female moves to the bank to release eggs, the scent can be overpowering. Yet, I have seen abysmally few anglers stop when they smell something fishy and start hitting the bank with a jig or minnow rig. The opportunity is fleeting, but the female is right against the bank and will strike anything that lands near her.
Most anglers also fail to use their eyes to located feeding crappies. Crappies give away their presence in a specific manner when they are feeding near the surface. The fish push up a surface bulge, sometimes accompanied by scattered bubbles. Baitfish may skitter or ripple the surface. However, the feeding activity is subtle, sometimes just some swirling of the surface. It is nothing like the explosion of a smallmouth, largemouth or striped bass.
Big crappies also are much more likely to follow roving baitfish than many anglers realize. Therefore, any baitfish schools that appear nervous at the surface should be immediately probed with a lure or minnow. These days, anglers depend upon the electronic ears and eyes of a sonar unit to find baitfish and crappies feeding upon them when they are deep. However, when the fish go to the bank where the water is too shallow or brush-choked for a depth finder, paying attention to your natural senses can lead you to bigger fish.
Find Fish With Fur
Unlike a jig with a plastic trailer, a jig with fur dressing doesn't need reeling. Just letting it fall makes it look so alive crappie can't resist.
Tommy Short of Rocky Mount, N.C., casts his own jig heads, paints them and ties on fur dressings. He carries hundreds of jigs with brightly colored heads. They weigh from 1/100-ounce to 3/16-ounce.
Photo by Mike Marsh
He catches so many crappie that he installed click counters on the boat gunwale to keep track of releases. He said some of the biggest fish strike the smallest jigs.
"I only use Craft Fur dressings," he said. "Color doesn't matter as long as it's white. I don't have to move my jig at all because it looks like it's breathing, just dangling in the water."
While Short works his jigs in the conventional up-and-down manner at manmade brush structures, when he gave me a few I began using them to search shallow shorelines.
I use a trolling motor, moving slowly along while rhythmically lifting the jig and letting it fall. If the jig is not holding the line taut, nearly straight down, the speed is too fast. Switching to a heavier jig can aid the presentation, but the goal is presenting the lightest jig possible to catch the biggest fish.